Protein enriched soups
Protein enrichment is a trend that is receiving more and more attention. Much research is being done in various fields into the administration of extra protein and its effect on the body.
People with certain conditions such as COPD have to contend with swallowing problems. For them, the daily intake of food is always a real struggle, as a result of which their nutritional needs are no longer met. This leads to weight loss and, in combination with reduced physical activity, to sarcopenia and loss of muscle function, not only for the leg muscles but also for the respiratory muscles. These people really need protein-rich soups.
But protein enrichment has been around for a long time in the world of sports. Sophisticated diets are formulated to improve athletic performance and faster recovery. There are people who like the high-protein soups to improve their performance.
But one day, all of us will benefit from these high-protein soups. The ageing process of our body is accompanied by loss of muscle mass and muscle strength (sarcopenia). This process, in turn, leads to reduced mobility, falls and fractures, which greatly reduce the quality of life.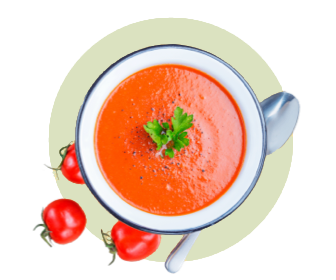 Product range
Protein and fibre rich tomato soup

Protein and fibre rich chicken soup

Protein and fibre rich mushroom soup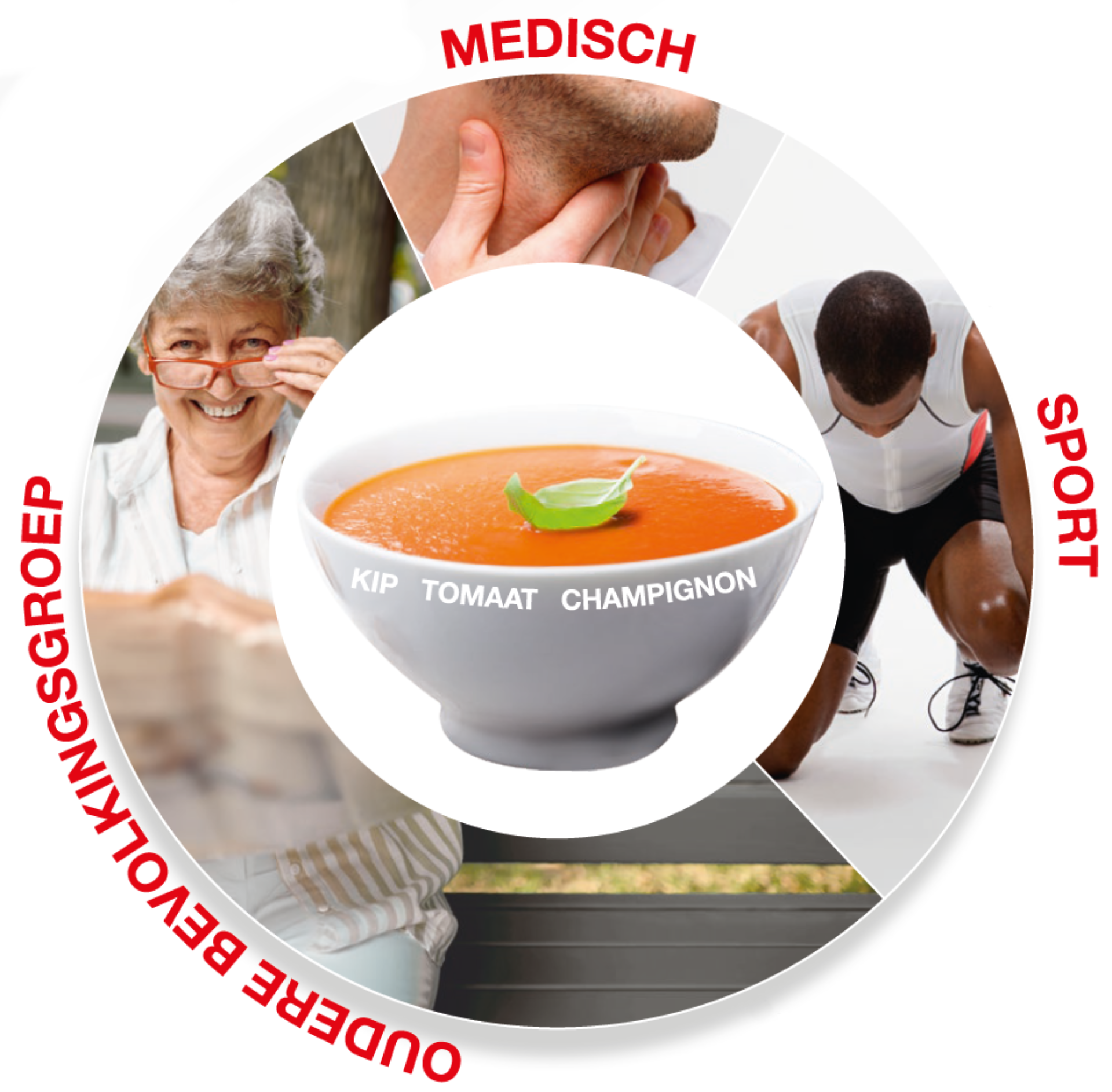 Advantages
For some time now, there have been a number of solutions for additional protein intake. In the sports world, there is a whole range of shakes, and in the care sector, booster drinks and enriched desserts are no strangers. However, Flandria Foods' protein-rich soups have a number of advantages that make them very popular.
Soup is something that most people like to eat.
An extensive test panel of more than 200 test persons found that Flandria Foods' protein-rich soups really taste good.

Soup is eaten at the beginning of the meal when people are still hungry and feel like eating. Therefore, they are more likely to effectively consume their extra portion of protein.

The soup comes in 1kg bags of powder. This gives you the opportunity to prepare a considerable amount of soup with little storage space.

The soup can be prepared in a central kitchen but equally well at home or in a care unit by adding a portion of boiling water to a scoop of powder in a small bowl.
Features

Very tasty protein soups.
Motivates to eat more.
Quick and easy preparation in a central kitchen, a ward or at home.
Powder dissolves very easily
Contains hydrated collagen proteins from Gelita with proven effect (contact us for the study).
Low sugar content
Long shelf life
Keep at room temperature
Minimal waste
Discover our other products